The Soviet World War Two Memorial in Treptower Park in Berlin is quite monumental – large in scale and meaning. The "Sowjetisches Ehrenmal in Treptow" was conceived by a collective of Russian artists and…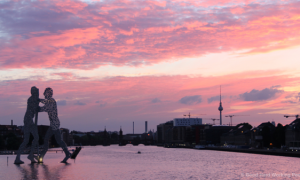 Sunset over Berlin and the Spree river – with views of the TV Tower (Fernsehturm), Molecule Man and the Oberbaum Bridge (Oberbaumbrücke) filmed this week on the Elsenbrücke on a beautiful summer evening….
The Insel der Jugend (Island of Youth) located in the Spree River section of Alt-Treptow, actually changed its name to Insel Berlin (Island Berlin) in 2010. But I prefer the more poetic name….