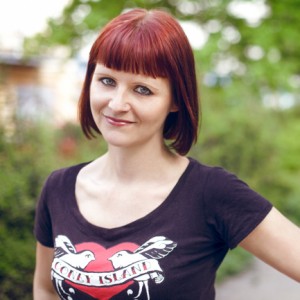 A Moving Postcard is a short video showing a place or an event. These are either 1-minute videos or longer versions of those videos – all shot and edited by me, Luci Westphal, a German New Yorker splitting her time between Berlin, Brooklyn and Colorado.
Since May 2010 I've been continuously publishing a weekly 1-minute video in the categories In A Berlin Minute, In A Brooklyn Minute, In A Colorado Minute, In Another Minute or In A Minute Portrait – depending on the subject or where I live at the time.
On this website, I've gathered all these videos to give you a searchable database to easily find what you're looking for in Berlin, Brooklyn, Colorado or from around the world.
xx Luci
Support Moving Postcard:
If you enjoy watching these videos, and especially if you are posting any of my videos on your own website, please consider helping me pay for the productions and hosting by making a donation.
The best way to support my work is by becoming a patron of Moving Postcard via patreon.com/LuciWest. As rewards for an ongoing monthly donation (starting as low as $1 a month), I will provide you with additional and exclusive content, the opportunity to have your say about upcoming videos and much more. The more you donate, the more you get…  Win-win, right?
If you prefer a onetime donation, I wholeheartedly invite you to make a  PayPal Donation.
Either form of financial support would make me very happy and enable me to continue creating and sharing these videos.
Trailer for Moving Postcard:
About In A Berlin Minute, In A Brooklyn Minute, In A Colorado Minute etc.:
I'm a German from outside of Hamburg. Since I was a kid I wanted to live in New York City. From 1998 til 2010s I did. I've always felt slightly misplaced everywhere – except for in NYC, where everyone seems to fit.
I've been proud to tell everyone I live in Brooklyn. In April 2010, I moved to Berlin.
At the time I didn't know Berlin – I wasn't even sure how much I knew Germany anymore. During that first week in Berlin I spontaneously (triggered by footage of the plane landing in Berlin) decided to shoot a 1-minute video every week – as a moving postcard I could share with my friends and family around the world and as a sort of weekly journal for myself.
Originally titled "German New Yorker in Berlin" these videos started as just my personal random 1-minute impressions of life as a German New Yorker in Berlin – shot with just a little point'n'shoot pocket photo camera. Eventually the audience grew (to almost 8000 on YouTube alone), and I began more purposefully going on excursions specifically to shoot a video for the series. It's been a great way to stay creative and get the almost instant gratification of sharing the creation publicly, to explore Berlin and other places, and to connect with people all around the world.
The title In A Berlin Minute derives from the expression "In A New York Minute", which refers to an instant. Or as Johnny Carson once said, it's the interval between a Manhattan traffic light turning green and the guy behind you honking his horn. It appears to have originated in Texas around 1967. It is a reference to the frenzied and hectic pace of New Yorkers' lives. A New Yorker does in an instant what a Texan would take a minute to do."
Of course, Germans are considered to be very accurate, which would mean a Berlin minute by contrast to the New York minute is exactly 60 seconds… like my weekly videos.
In September 2011, I returned to New York City, but decided to keep this series going. You don't have anyone to blame but YOURSELF, dear viewer, with all of your encouragements. Because I then lived in Brooklyn, I changed the name of the series to In A Brooklyn Minute.
Except that in July 2012 I returned to Berlin… and it went back to In A Berlin Minute. In the summer of 2013, I then moved to Colorado… you guessed it: as of now the weekly video is called In A Colorado Minute – or In Another Minute whenever I'm traveling – or In A Minute Portrait when the video is a 1-minute interview. But it's always a Moving Postcard.
About Moving Postcard:
To explain what exactly the In A Berlin Minute videos are, I started referring to them as moving postcards. Images from a place without much camera movement but with movement within the frame. Not much commentary, just the original recorded sound or a music track. As I began also publishing longer bonus versions of some of the 1-minute videos, I decided to call those videos Moving Postcards (with their own title card and all). When I launched this website, I chose the term Moving Postcard as an overall term for the short and the long videos. These videos are both a moving postcard that I made to send to you – as well as a moving postcard you can send to someone else with a special greeting. Go ahead, try it.
Offline events where Moving Postcard videos have been featured:
Rob Pruitt Installation at Move! Plasticity – Sao Paolo – November 2014
Berlin Wall Foundation's 25th Anniversary of "The Fall of The Berlin Wall" Film Screening – Berlin, Germany – November 2014
3rd Anniversary of Moving Postcard Screening at 8mm Bar – Berlin, Germany – August 2013
Moving Silence at Indo-German Urban Mala – New Delhi, India – November 2012
Moving Silence at X-Dream Festival – Nicosia, Cyprus – December 2011
Extract Art Event by The Hive – Chicago, USA – October 2011
Shortcutz Berlin – Berlin, Germany – April 2011
Other creative endeavors in which Moving Postcard videos have been featured:
Boruff Adventures (Ep. 13: Germans do NOT love David Hasselhoff and other misconceptions) – travel web series, 2013
-> used footage from "David Hasselhoff tries to save the Berlin Wall – In A Berlin Minute (Week 151)"
5 Para a Meia-Noite (VII) – Portuguese TV show, 2013
-> used footage from "David Hasselhoff sings at the wall to save the East Side Gallery"
Audi commercial – Trigger Happy Productions, 2013
-> used footage from "Siegessäule (Victory Column – Goldelse) – In A Berlin Minute (Week 120)"
Children of the Wall – feature documentary, directed by Eric Brice Swartz, produced by Sarah Christine Bolton, 2012
-> used footage from "Tacheles – In A Berlin Minute (Week 38)"
MDR artour – German TV show, 2011
-> used footage from "The Official Planking Song by The Planksters (In A Berlin Minute – Bonus Clip for Week 61)"
Footage from Moving Postcard videos has also been used in another German Audi commercial, in a fictional short film, on German an Italian TV news shows, in a BBC documentary and in several music videos.
In the (online) press:
Prendetevi un minuto di pausa e godetevi tutta la bellezza di Berlino – il Mitte, 2014
Berlin Portrait: Luci Westphal – uberlin, 2013
Websites that have syndicated Moving Postcard videos:
About Luci Westphal:
After growing up near Hamburg, Germany, Luci Westphal attended film school in Florida and then spent over a decade in New York City. From 2010 until 2013, she split her time between Berlin and Brooklyn and in 2013 moved to Fort Collins, Colorado.
As the co-owner of Good Hard Working People together with Scott Solary, she has produced and directed various documentaries, short films, music videos and web series.
She is a Jerome Foundation Grant recipient for her documentary film All's Well and Fair and co-directed the Jerome Foundation funded documentary All God's Children, for which she also organized the grassroots distribution and outreach campaign. Her screenplays have won accolades at various screen-writing competitions. While living in Berlin, Germany, in 2010, she started a  weekly 1-minute web series called Moving Postcard (aka In A Berlin Minute, In A Brooklyn Minute, In A Colorado Minute, etc.).
Over the years she has directed, produced and edited commissioned documentaries, music videos, industrials and educational films. And yes, you can hire her as a director, producer, shooter or editor.
If you would like to use a video on your blog or other website:
You are welcome to use the videos found on this website on your own blog or other website. Please use the embed code you get from the original Vimeo or YouTube video. Downloading and re-hosting is not permitted. Please include a link back to the original post for the particular video on the Moving Postcard website. I would appreciate a mention of the Moving Postcard web series and/or my name. Furthermore, it would be great if you would send me the link of your post or website – then I can share it with my social media community.
If you would like to use a video or footage in an offline project (commercial or non-commercial), please contact me.
Other places you can watch these videos:
Vimeo
YouTube – 1-minute videos
YouTube – longer videos and vlogs
Other places we can connect:
Facebook
Google+
Tumblr
Twitter
Flickr
Instagram
about.me
Pinterest
Patreon
Email: Hello [at] goodhardworkingpeople [dot] com