Canadian Cheryl Howard is an expat and travel blogger, a Berlin Meet-Up organizer and my friend.
Cheryl Howard has been living in Berlin for about 5 years – with a Toronto stint in-between. With centrally-located Berlin as her home base, she has found the perfect place to pursue one of her biggest passions: travel. Lucky for us, she shares her travel experiences and tips via her photography and writings on her website CherylHoward.com and on Instagram, Twitter, Facebook, Google+ and Pinterest.
Since I met Cheryl in 2012, I've always been impressed by all her travels (especially to the less obvious and touristy destinations), savvy writing, and social media prowess. She's such an inspiration!
Because Cheryl Howard loves Budapest so much (and I'm also quite fond of it), I recommend you start exploring her website by checking out one of her posts about Budapest.
Another thing that has always impressed me about Cheryl is how outgoing she is. We met when she invited another friend and me, a total stranger, on a Berlin tour in a Calessino. Of course, we became friends, and I made a video about our outing: Berlin Calessino Tour with Expat Bloggers – In A Berlin Minute (Week 122).
So it's not surprising to me at all that Cheryl recently got into organizing social events…
Together with Adam Groffman (of TravelsOfAdam.com), Cheryl organizes a monthly Berlin meet-up called Make Friends in Berlin.  The fun get-togethers encourage newcomers, locals, and expats to meet new people and make friends. To join the fun, check out the Make Friends in Berlin Meetup page and the Make Friends in Berlin Facebook group.
The photos in this video show Thailand, Prague, the CSD Parade in Berlin, Cheryl learning to make dumplings in Italy, and Budapest. All these photos are courtesy of Cheryl Howard.
Thank you, Cheryl, for inspiring me and others to travel, be social, enjoy life and "write home" about it.
Also, thank you for meeting me on your lunch hour during my brief Berlin trip this month. Conveniently, Cheryl's day job as an Agile Coach is located just steps from the Museumsinsel (Museum Island) in the river Spree. So we had the perfect Berlin backdrop with the Bode Museum, the Spree and the TV Tower (which dictated my slightly awkward framing).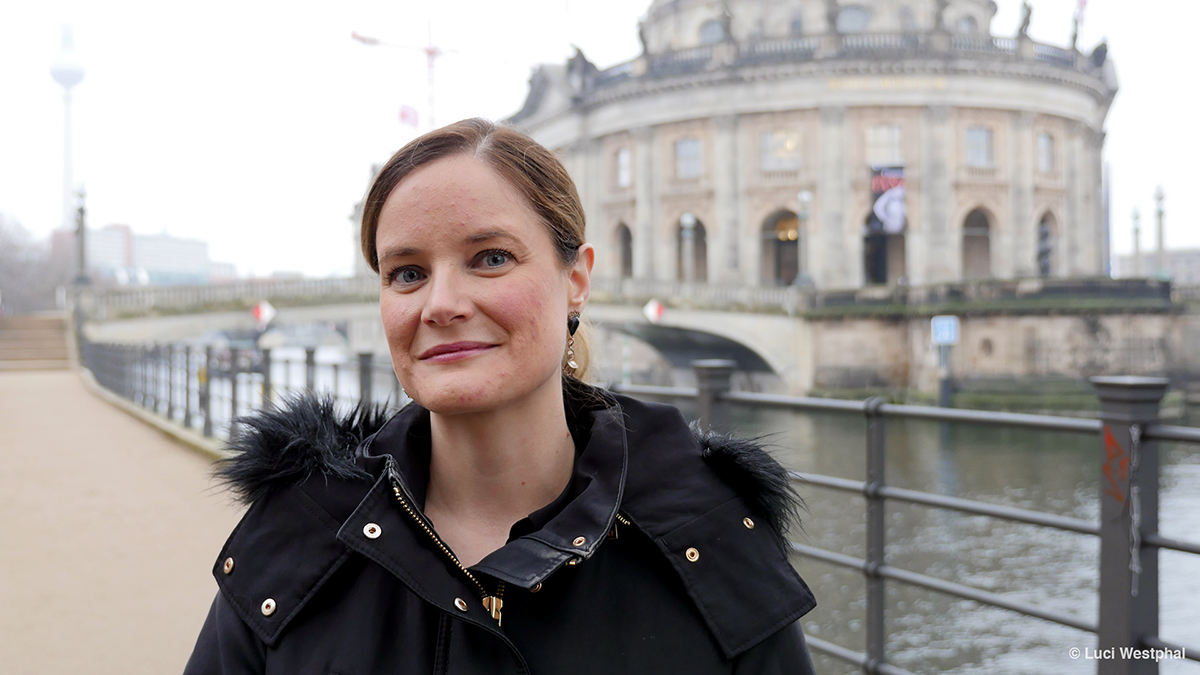 By the way, I filmed two more In A Minute Portrait videos during this quick trip to Berlin. One of them even features two people… I'm not going to say more right now… to build up a bit of suspense. Just wanted to let you know there are more quickie Berlin expat interviews coming your way… (The ellipses heighten the suspense incredibly, right…?)
Save