Coney Island (which really was an island until the straight was filled with dirt) is one of my favorite places in the world – and I'm not even a big fan of amusement parks.
Taking the subway* or my bike straight to the Atlantic Ocean beach; getting french fries from Nathan's, a beer at Ruby's (maybe a funnel cake from inside Astroland or now renamed Luna Park again – if I can make it fit); watching the families, the cool city kids, the freaks and the Russian neighbors stroll the boardwalk with its funky old and now also new stands; cheering on the Polar Bear Club members as they run into the freezing waves on January 1st or the half-nude mermaids and mermen on Mermaid Parade or the about-to-be-huge indie bands at Village Voice's Siren Music Festival (until 2010); picking out yet another shirt or present at Lola Star and finishing it all off with watching the Friday night fireworks on a warm summer night… I couldn't be happier. Throw in a Cyclones baseball game or a visit to the Aquarium and you have a 1-day vacation package.
I've been coming to Coney Island since moving to Brooklyn on New Year's Even 1998/99 and I've seen so many changes. I was heartbroken when they tore down the other ancient roller coaster (the Cyclone still runs after almost 90 years – but you won't get me on that). I was sad when all the old used furniture stores disappeared.
The free Siren Festival, where I saw bands like the Yeah Yeah Yeahs, Spoon, Art Brut and many others before they made it really big, ended just as I was moving to Berlin, where the Berlin Festival kept me entertained. I preferred the old Luna Park over that new Luna Park and all its snazzy rides. Ruby's got a facelift and the rocket disappeared. I never participated in "Shoot The Freak" – but it was bizarre enough that it was fun to watch a guy trying to avoid getting shot by paintballs. But you know, some of that old run-down charm still survives and no matter if you're into screaming your head off on new rides or an ancient roller coaster, if you enjoy taking in a baseball game while watching the ocean in the background or just want to bask in the sun – Coney Island is still where it's at and definitely not to be missed on your next trip to New York. And to my New York friends: you don't go often enough!
Coney Island is a place that I will always return to. So as I'm packing my bags for my move out west, I think this is a very fitting last Brooklyn video for a little while. Again I'm leaving a home with a smile and with tears in my eyes (mit einem lachenden und einem weinenden Auge).
Brooklyn, I love you so much!!!
Music by Jason Matherne of Goonygoogoo Productions.
—
* take a ride with me and my friend Julia Wiedwald from Berlin on the "Subway to Coney Island – In A Brooklyn Minute (Week 106)"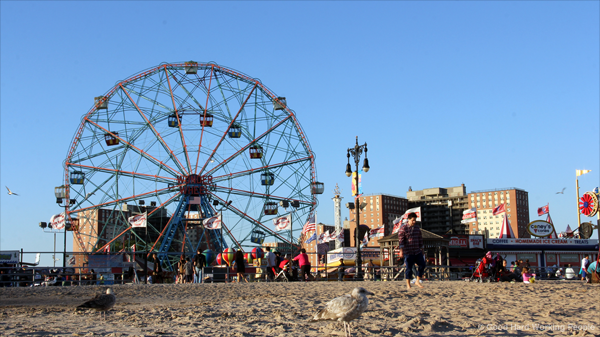 You can view more of my photos from this video shoot on Flickr or on the Perpetual Explorer website: "Last Stop: Take the "F" Train to Coney Island, Brooklyn"