Devils Tower in northeastern Wyoming is a powerful sight to behold.
Rising 1,267 feet (386 m) above the surrounding mellow hills, forests and grasslands and with the summit at 5,114 feet / 1,559 m above sea level, the unique mountain inspires awe and imagination. Many of you will probably have seen Devils Tower in the 1977 film Close Encounters of the Third Kind by Stephen Spielberg. But I am now more fascinated by how it inspired Native American.
The different tribe's names for the monolith mostly relate to bears: Bear's House (Cheyenne, Crow), Bear's Lair (Cheyenne, Crow), Bear's Lodge (Cheyenne, Lakota), Bear's Lodge Butte (Lakota), Bear's Tipi (Arapaho, Cheyenne), Tree Rock (Kiowa), Aloft on a Rock (Kiowa), and Grizzly Bear Lodge (Lakota). It has inspired wonderful origin tales that often include the monolith rising from the surface to save someone from a bear, which in turn left his claw marks on the Tower's surface
It is still considered a spiritual place today, which is the reason for the ribbons and scarves left on trees. And if you're open to it, I believe you can feel a natural power. Maybe even only because nature (possibly as the result of a volcano) created such a unique, large and seemingly ever-lasting structure.
It struck me as a bit odd that the English name on the other hand refers to something negative, the devil. Turns out that some dude just gave the wrong translation and now that now some people are worried that changing the name to the more appropriate Bear Lodge would hurt the tourist trade. Devils Tower was declared the first US National Monument in 1906.
You are allowed to climb the mountain – however, we didn't see any climbers that day – only soaring birds and the ladder high up between the ridges, which you can see in the video if you look very closely. The prairie dogs in the video are a nod to my friends Mike and Brad in Albuquerque, who first suggested a visit to Devils Tower in response to my video about Prairie Dogs.
As we approached Devil's Tower and as we walked all around it, I kept getting the sense of the classic calm rock in the turbulent sea that is our lives. It was the first stop on last week's road trip through the Black Hills of Wyoming and North Dakota, which felt more spiritual than expected – as soon as we saw three meteors with long fiery tales cross the night sky on our drive up through Wyoming shortly after leaving Colorado.
The trip continued to be rather spiritual for me – connecting with astonishing displays of nature, contemplating how the Native Americans live so close to the land, fulfilling an actual spiritual mission on behalf of a friend, spending time with those I love, exploring and transitioning and finally reaching the most beautiful sight as we happened upon Sylvan Lake at sunset in Custer State Park. I shot a lot of video over those days and I hope you'll be back to watch video of Spearfish Canyon, Mount Rushmore, Crazy Horse Memorial, Custer State Park and Needles Highway. On this road trip, we didn't make it over to the Badlands. But now I have another road trip to look forward to. Thank you for joining me on my explorations!
The song featured in the video is by Josh Woodward and is licensed under a Creative Commons Attribution 3.0 US License. Thank you, Josh!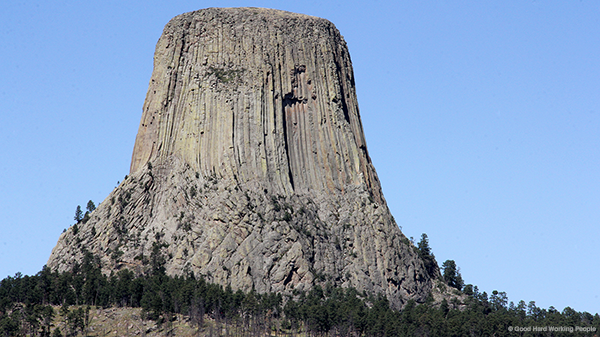 You can look at more photos from this video shoot on my personal blog: Devils Tower (aka Bear Lodge) – Photos
Updated post: First and Sacred: Devils Tower aka Bear Lodge (Wyoming)