This Pikes Peak Highway Time-Lapse video shows the complete drive down 16-mile Pikes Peak Highway – from the Pikes Peak summit at 14,115 feet (4,302.31 m) to the road entrance at about 8,000 feet. Therefore, it covers 6,000 feet of elevation and 16 miles of roadway in less than 12 minutes!
The Colorado mountain Pikes Peak is the highest mountain in the Front Range of the Rocky Mountains. This also means it's one of the 53 fourteeners in the Rocky Mountains. It's also a US National Historic Landmark.
What I especially enjoyed about the drive down were all the views into the different valleys and of other lower peaks. Of course, it's also very cool to see the vegetation change. Pikes Peak Highway takes you through four out of the six classically described life zones: Alpine Zone, Sub Alpine Zone, Montane Zone and Foothills Zone.
Something that may or may not be comforting: on the way down there is a required stop where the temperature of your breaks get tested to ensure they aren't overheating and are still working properly.
This Pikes Peak Highway Time-Lapse video, shot with a GoPro and sped up 400%, was filmed in September 2015 during week 279 of the 5-year-running weekly web series Moving Postcard.
As with all time-lapse videos, I highly recommend watching in HD.
Other Pikes Peak videos:
Complete Drive Up Pikes Peak Highway, Colorado – (Extended Version)
Driving Down Pikes Peak Highway – In A Colorado Minute (291)
Driving Up Pikes Peak Highway – In A Colorado Minute (Week 279)
Pikes Peak Summit – In A Colorado Minute (Week 280)
The music in this video was all made by Jason Shaw. All songs are available via a CC BY 3.0 license on his website Audionautix. Thank you so much, Jason!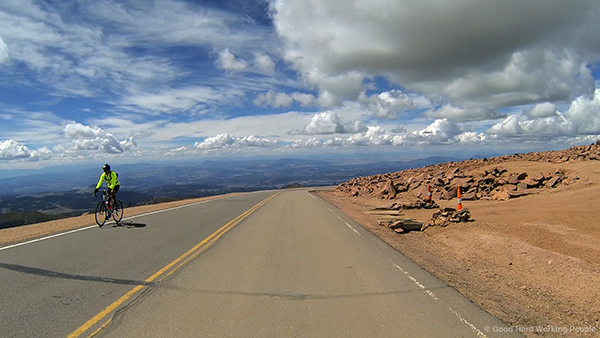 Save
Save