This week, I went cross country skiing for the first time. The setting was the Araphaho Bend Natural Area, in Fort Collins, Colorado. The picturesque landscape features a section of the Cache la Poudre River and the Arapaho Bend Ponds.
Our friends Lisa Eaton and Pascal Desilio of Vibe Boards are experienced cross-country skiers, and joined Scott and me on this wonderful outing in a foot of powder snow that had fallen two days before. They also gave us helpful instructions on how the classic style of cross country skiing is done: striding forward with the skis parallel (vs. the movement of skating, as in the skate skiing style). With the opposite arm using a ski pole to push you forward while your abs help you keep your balance, it is quite the full-body workout. Next time, I'll make sure to not get as bundled up as I do for snowshoeing, since one warms up so quickly.
Since I knew my hands would be occupied with the ski poles, I decided to strap a GoPro to my chest to film this experience. Of course, with the full-body movement, the footage got a bit shaky. So I'm glad I brought my regular compact camera along to get some steadier shots and some photographs. Otherwise, I would have never caught those two bald eagles passing overhead. One of these days, I hope to catch some with a good telephoto lens…
The Arapaho Bend Natural Area is part of a chain of city-maintained parks and trails along the Poudre River, including Prospect Ponds and Riverbend Ponds, all of which are connected by paved trails. You've got to love this about Fort Collins!
Arapaho Bend is especially lovely because of all the fishing ponds, the view of the Rocky Mountains and several abandoned buildings, including the historic Strauss Cabin. I didn't have room for those buildings in the video, but will feature them in an upcoming photo post on my personal blog.
The featured song is called "Back to the Woods" by Jason Shaw of Audinautix.com. He has made so many excellent songs available via a CC BY 3.0 license! Check them out! Thank you so much, Jason!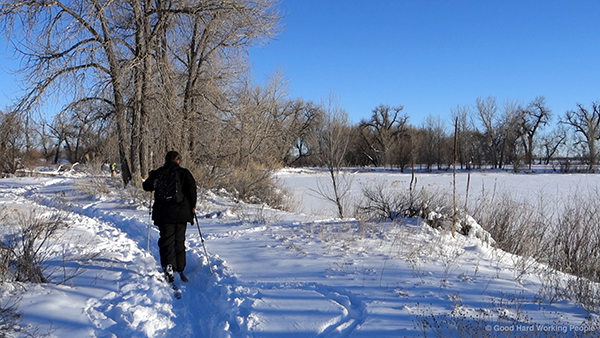 Save
Save