Lands End Baja California is the most southern tip of the Peninsula Baja California, Mexico, that separates the Sea of Cortez (aka The Gulf of California) from the Pacific Ocean.
Lands End Baja California is a stretch of granite rocks in Cabo San Lucas, Mexico. The most famous rock formation is El Arco or The Arch of Cabo San Lucas. The most southern part of Lands End Baja California is a smaller rock jutting out of the sea that is often, as in this video, graced by a sea lion.
Another attraction of Lands End are the two beaches that can only be reached by boat, mainly glass-bottom water taxis.  Lovers' Beach is where the water taxi will drop you off and pick you back up. It's also where you can swim and snorkel and look back at Cabo San Lucas and the cruise ships and yachts. Divorce Beach is much larger and has one wicked undertow and crashing waves coming from the Pacific Ocean.
Lands End used to be frequented by pirates like Sir Frances Drake and Thomas Cavendish. There are even still some pirate caves in the rocks that sit directly in the water. It seemed that every rock formation and cave had a name and a fun story that I heard from the water taxi driver that gave us a tour around the tip before dropping us off on the beach. I think it's better to hear them in person told by a local than reading them from me. So I hope you get to go one day (if you haven't been already).
And if you go spend a few hours on Lovers' Beach and Divorce beach, beware that there is hardly any shade except right at the rocks and only if the sun is at an angle. Of course, as everywhere in Cabo, there are people selling drinks. But I'd advise to bring your own water (and beer), a hat and lots of sun screen.
The song featured in this video is "Beachfront Celebration" by Kevin MacLeod (incompetech.com). It is licensed under Creative Commons: By Attribution 3.0 License. Thank you, Kevin, for your big variety of free music!
Other videos from Cabo:
Cabo Sunrise (Mexico) – In Another Minute (Week 306)
Cabo San Lucas (Mexico) – In Another Minute (Week 307)
Los Cabos, Mexico – In Another Minute (Week 209)
I'd like to leave you with a quote from "The Log from the Sea of Cortez" by John Steinbeck (which I found on a post by Expeditions.com): "The tip of the Cape at San Lucas, with the huge gray Friars standing up on the end, has behind the rocks a little beach which is a small boy's dream of pirates. It seems the perfect place to hide and from which to dart out in a pinnacle on the shipping of the world; a place to which to bring the gold bars and jewels and beautiful ladies, all of which are invariably carried by the shipping of the world. And this little beach must have so appealed to earlier men, for the names of the pirates are still in the rock, and the pirate ships did dart out of here and did come back."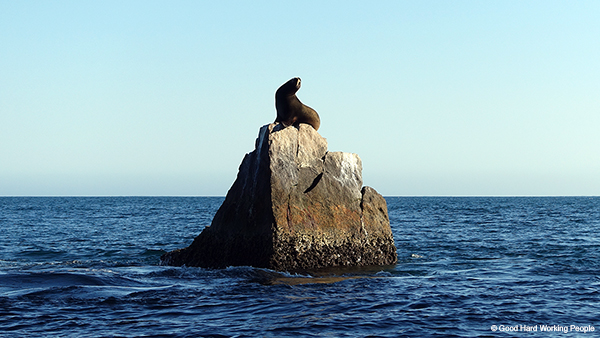 You can look at more photos from this video shoot on my personal blog: Photos of Land's End Baja California (Mexico)
This week, I launched a campaign on Patreon. I would very much appreciate it if you would check out Patreon.com/LuciWest and (consider to) support this weekly video series. Thank you!