La Habana Vieja is the proper name for the central neighborhood Old Havana in Havana, Cuba. If you visit Havana for the first time, this is where need to go. If you've visited before, you probably still want to return – even if only to sip a cold beer in the shade and watch the hustle and bustle of the streets. If you live in Havana, you may actually prefer other neighborhoods with less tourists.
This video is an extended version (full of before unseen and alternative footage) of my 1-minute video La Habana Vieja, Old Havana (Havana, Cuba) – In Another Minute (314). Because this is just a complimentary post, for more information and links, please check out that original post. Everything was filmed in April 2016.
Major sights in this video:
Castillo del Morro Castle and Lighthouse (seen from our balcony)
La Cabaña Fortress (seen from La Habana Vieja)
Castillo de la Real Fuerza
El Templete
Basilica Menor de San Francisco de Asis on Plaza de San Francisco
Catedral de San Cristobal
Plaza Vieja (including Factoria Plaza Vieja, Cervezas y Maltas)
Hotel Ambos Mundos (Hemingway Hotel) on Calle Obispo
Plaza de Armas (where I got the Obama poster for my birthday)
La Floridita (where Hemingway and us had delicious daiquiris)
La Bodeguita del Medio (where Hemingway hung out, but we didn't)
Parque Central
Payret Cinema and Capitolio
Prado (Paseo de Marti) street
Museo de la Revolucion
Memorial Granma
Museo Nacional de Bellas Artes de la Habana
The song in the video is "El Pescador" by Bruno Bassi of Los Hermanos – from the royalty-free music website GoSoundtrack.com. Their collection is available via a Creative Commons Attribution 4.0 International license.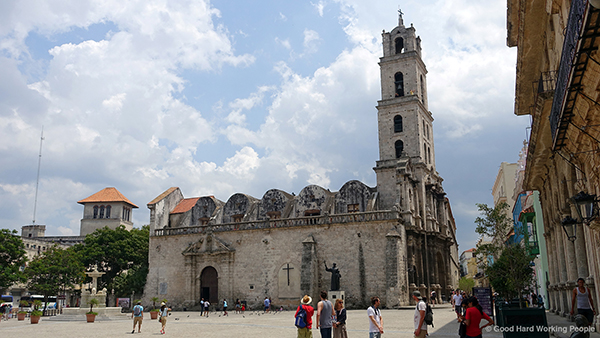 Look at more photos of La Habana Vieja, Cuba, in the In Another Minute 2016 Flickr album and on my blog: Photos from La Habana Vieja (Old Havana), Cuba 

Save
Save
Save
Save
Save
Save