It seems that most people know Red Rocks as a music venue. But it's also a large park that is very worth exploring. So when Scott and I had tickets for concerts on two consecutive nights, we made a whole weekend out of it; allowing time to wander the park and shoot this video.
Red Rocks Park encompasses 868 acres (351 hectares) of huge sandstone rocks, trails, wildflowers, wildlife, exercising people, a street loop, one cool tunnel, souvenir shops, a restaurant, the Colorado Music Hall of Fame and the Red Rocks Amphitheatre. The park sits at 6,500 feet (1.98 km) above sea level, just west of Denver. The rocks, like those in Garden of the Gods, are part of the Fountain Formation. They formed almost 300 million years ago during the Pennsylvanian epoch and were pushed and tilted up to their current position during the Laramide orogeny some 80 to 35 million years ago.
Red Rocks Amphitheatre is based on a natural formation of hill and rocks that was probably already used for its enhanced sound by the Ute tribe people. The stage sits in front of Stage Rock at the bottom. The audience area inclines in a widening shape, with the north side framed by Creation Rock and the south side by Ship Rock. Construction of the man-made amphitheater aspects took place from 1936 to 1941. This year, Red Rocks Park and Amphitheatre celebrates 75 years of performances.
Some of the most famous shows are probably the Beatles in 1964 (not sold out) and U2 in 1983 (material recorded was used in the film and live album Under a Blood Red Sky). But isn't it just as exciting that the opening sequence for The Adventures of Ford Fairlane was filmed there? After all, it features a 1957 Ford Fairlane, older brother to my dear '64 Ford Fairlane "Fitz".
The amphitheater officially fits 9,525 people on long wooden benches. I've got some gripes about the General Admission and ticketing system. In short, if you want to be near the stage, you have to wait in line for hours before the show – or face getting yelled at by people, whose view you're not blocking nor whose body you will even be touching. Maybe some audiences are just more uptight than others… In any case, I personally prefer concerts where you can move around freely or actually reserve a decent seat.
The musicians you see (and hear) in the video performed on two different nights: J. Mascis and The Avett Brothers on July 30th, and Real Estate and The National on July 31st. It was terribly tempting to return to Red Rocks two days later to see LCD Soundsystem. But besides the cost and time it would take, Scott and I agreed it could never live up to the time we saw them up-close and personal at the 2010 Berlin Festival (on their supposedly last tour ever). By the way, I did prefer previous shows of The National in smaller venues, but they sounded great and made the experience at Red Rocks extra special.
What made the previous Red Rocks night super fun is that we got to hang out with our friends Jocelyn and Jason Piccolo. They had flown in from Georgia for one last family vacation before opening their craft beer market White Whale Craft Ales in Savannah, Georgia. Good luck, guys! We can't wait to visit you in your store.
The song in the first half of the video is called "Acoustic Blues" and was written and performed by Jason Shaw of Audionautix. He made this song available via the CC BY 3.0 license. Thank you so much for all your great songs, Jason! The other song blips are from the artists we saw those two nights (listed above).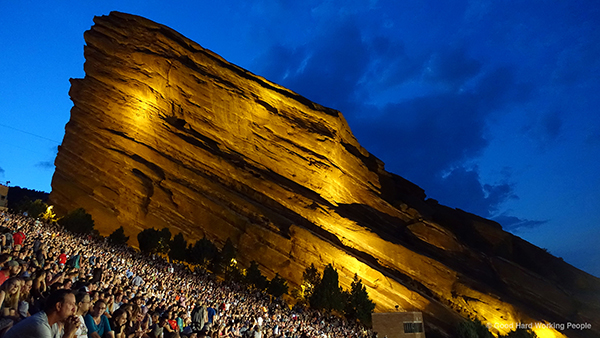 If you'd like to see more photos of Red Rocks, please check out my blog post Photos of Red Rocks Park and Amphitheatre or the In A Colorado Minute 2016 Flickr album.
Save
Save
Save
Save
Save