Come Along On A Trip To...
Latest Videos
Mesa Verde is not only a beautiful US National Park but also a UNESCO World Heritage Site. It's the largest archeological preserve in the United States and features over 4000 archaeological sites and…
This one-minute video shows you highlights from the 1-minute Moving Postcard videos I shot in Berlin in 2013. Actually, there are two shots from my parents' backyard, which is near Hamburg, not Berlin….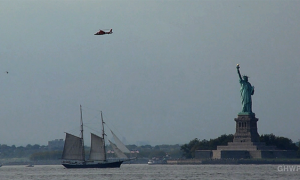 The day finally arrived this week: Scott and I (with more fun distraction than help from Whiskey) packed up our apartment in Brooklyn and said our good-byes to our NYC friends and totally…
This one-minute video shows you 2013 highlights from all the Moving Postcard videos I shot in other countries than Germany and the USA. For the last video of 2013, I had planned to…
Pianos About Town is a lovely interactive public art installation in Fort Collins, Colorado. Since 2010, painted pianos can be found around the wider Old Town  (downtown) area, inviting everyone to sit down…